Residential / Commercial Service Maintenance Contracts
Don't Wait Until Something Breaks And Damages Your Home–Just Like You Go to the Doctor for A Yearly Exam, Be a Peace Of Mind Service Contract Holder For $30 a Month and Get 4 Check-Ups a year for the all the different systems in your home. Check-ups aim to keep your house cool in the summer, warm in the winter, to keep your basement dry and your home undamaged!
Just like a doctor visit, check-ups are not a guarantee that you will never have a problem, but they can catch little things that can lead to bigger problems if they go untreated and often they can prolong the life of your heating and air conditioning systems, help you save on your utility bills and help you avoid costly plumbing and drain cleaning emergencies.
Request More Information on a P.O.M. Service Contract Today by Completing our Contact Form or calling us at: 1-800-882-0194.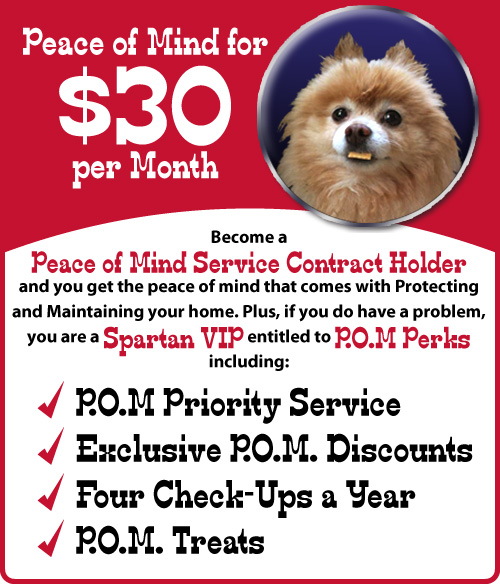 Fall Heating Check-up (Once a Year)
This 10-point check-up is an Energy Saving Annual Maintenance that will keep your heating system running efficiently so you never get caught without heat during our Washington, DC and Maryland winters. Whatever type of heat you use, from furnace, to heat pump to steam boiler, Spartan's expert technicians will keep your home warm and toasty!
Energy & Water Saving Plumbing Check-ups a year (Twice a Year)
Spartan can dye test your toilets for leaks and inspect your entire house, all hot water heating systems vents, valves, pumps, fixture drains, exposed water piping, faucets, shut- off values, hose bibs, meters, and washing machine hoses. With 48 years of experience, we know all the potential problems and pitfalls and what to look for to keep your water bills low, your basement dry and your home undamaged.
Spring Air Conditioning Check Up (Once a Year)
Spartan recommends our HVAC customers schedule a Spring A/C Checkup so that when you turn your system on we can analyze your system's performance and make adjustments for optimum efficiency. By doing this energy saving annual maintenance you can prolong the life of your system and keep your air conditioning running through the scorching heat and high humidity of Washington DC & Maryland summers. A/C maintenance helps save on your utility bills and helps prevent you from being that person without a/c when we have triple digit temperatures.
Plus if something does break—we've got your back!!! When you are a Peace of Mind Service Contract Holder you are a Spartan VIP entitled to P.O.M. Priority Service, Exclusive P.O.M. Discounts, P.O.M. Perks, and P.O.M. Treats.
Call Spartan and Sign Up Today!