Professional Contractors Servicing Upper Marlboro, Maryland
Spartan Plumbing, Heating and Air Conditioning provides a wide range of services for residence which includes but is not limited to: 24/7 Services, residential plumbing, commercial plumbing, HVAC installation, drain cleaning, maintenance, water heaters, energy audits and more.
Schedule Plumbing or HVAC Services or Inquire About a FREE Estimate Today!
Plumbing Leaks in your Upper Marlboro, Maryland Home
When you have a plumbing leak in your home, the most important thing you can do is to employ the services of a reputable, licensed, bonded and insured plumber like Spartan Plumbing, Heating and Air Conditioning. Spartan has been serving Upper Marlboro, Maryland Homes for 47 years and maintaining a Better Business Bureau A+ rating. Whether the leak is under dry wall or the pipe is exposed, Spartan will get to your Upper Marlboro, MD home quickly, fix the leak and clean up well afterwards. Spartan will treat you and your family with respect. Spartan Plumbing is Upper Marlboro, Maryland's Leak Detection Expert! Whether the leak is in an underground pipe in your front yard and excavation is required or if it is a pin hole leak in a pipe in your basement, Spartan will know what to do. They can also use video camera pipe inspection to find out what's going on inside your pipes.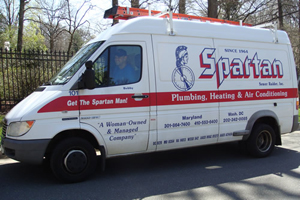 Backed Up Drains, Drain Cleaning and Slow Drains in Upper Marlboro, MD
It's important to establish a relationship with a plumbing company that has 24 hour emergency service for those times when you least expect it and you have a sewer pipe backing up in a floor drain in your basement! You need plumbers who know what they're doing, from simply snaking out the drain outside your basement door to actually having to replace your sewer pipes, Spartan Plumbing, Heating and Air Conditioning can handle it all. That's why most Upper Marlboro residents know to get the Spartan man because behind every Spartan plumber is a woman owner- operator who loves her customers. And Spartan plumbers don't charge extra for weekend or emergency service!
Residential Plumbing Services in Upper Marlboro MD Include:
Pipe Repair, Installation and Replacement
Leak Detection and Pipe Video Inspection
Backflow Prevention
Installation and Replacement of All Types of Boilers
Installation and Replacement of All Types of Energy Efficient Water Heaters
Installation and Replacement of Sump Pumps, Battery Back Up Systems and Garbage Disposals
Repair, Replacement and New Installation of Toilets, Bathtubs, Showers, Sinks and Laundry Tubs
Repair and Replacement of Kitchen and Bathroom Faucets