A licensed, bonded and insured plumber is an important asset when you are a homeowner in Northeast D.C.. If you live in the NE region of Washington, DC you've probably seen the red, white and blue Spartan Plumbing, Heating and Air Conditioning (HVAC) Trucks. That's because the Spartan Man is your local plumber. Spartan Plumbing, Heating and Air Conditioning has been serving Washington, DC residential homes for 47 years with a Better Business Bureau A+ rating.  When you need plumbing repairs, toilet repairs, faucet repairs, sink replacement, garbage disposals or tubs and showers fixed, Give Us A Call! Don't forget—Spartan offers 24 Hour Emergency Services, and Spartan doesn't charge extra for evening or weekend service! Call 1-800-882-0194 or fill out our Schedule Service Request Form Today!
Drain Cleaning, Leaking Pipes, Pipe Repair in Northeast Washington, DC (NE)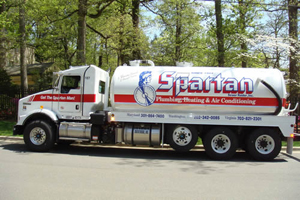 Nothing is worse then an overflowing toilet in the middle of the night or a bad leak in your ceiling on a Sunday! You need to turn the water off and your main shut off valve doesn't work or worse you don't know where it is! Northeast residents appreciate that Spartan Plumbing has 24 hour emergency service and A Spartan Plumber doesn't charge extra for evening and weekend service.  So when you need help, Get the Spartan Man! Spartan can snake and clear all of your drains.  Spartan can cut through tree roots in your drains and clear the blockage. If roots have infiltrated your pipes and they need replacing, Spartan can take care of all of your underground pipe replacement needs.  Cracked, broken or collapsed pipe repair and replacement will be done quickly and efficiently.  Spartan is also the Leak Detection Expert!  Whether it is a leaking pipe in the ceiling or wall, or drips under your sink, A Spartan Plumber is here to help 24/7!
Some of Spartan's Plumbing Services in Include:
Pipe Repair and Re-piping
Bathroom / Kitchen Leaks
Gas Leaks and New Gas Lines
Water Heaters repair and installation
Sump Pumps, repair, replacement and new installation
Sump Pump Battery Back Up Systems
Jammed or Broken Garbage Disposals, repair, replacement and new installation
Gas or Steam Boiler repair, replacement and new installation
Video Camera Pipe Inspection
Underground Main Water Service or Main Sewer Pipe Repair, Replacement or Installation
Free Plumbing Estimates
Financing
Schedule Service Now by Completing Our Service Request Form
Commercial Plumbing Services in Northeast Washington, DC (NE)

If you are a restaurant, commercial or church kitchen manager in Northeast Washington, DC (NE) and you need help with F.O.G. Violation Correction, Spartan Plumbing is the commercial plumbing expert when it comes to Fats, Oils and Grease in your drain lines.  We have the following services for Restaurants, Commercial or Institutional Kitchens:
Commercial Grease Removal and Pumping
Water or Hydro Jetting Grease from your Drain Lines
Commercial Drain Cleaning, Snaking and Object Removal
Grease traps, Grease Recovery Devices and Grease Interceptor Installation
Restroom Plumbing Fixtures Repair and Installation
Bar Sinks and Mop Sinks Repair and Replacement
24 Hour Emergency Service, 7 Days A Week
Free Estimates
Air Conditioning Repair, Heat Repair, No Heat or No A/C in NE DC?
If you have no heat or no a/c in NE DC—you need to Get the Spartan Man Now! Spartan Also Provides Heating and Air Conditioning (HVAC) Services in Northeast Washington, DC (NE) Including:
Central Air Conditioning Service, Repair and Installation
Heat Pump Service, Repair and Installation
Furnace Repair, Service, Repair and Installation
All Types of Boiler Repair and Installation including Gas and Steam Boilers
Heating Service, Repair and Installation
Oil to Gas Conversions
Electric to Gas Conversion
Heating and Air Conditioning Service Contracts
Air Conditioning Tune-Ups
Free Estimates
HVAC and Energy Financing
HVAC / Plumbing Financing Services
Spartan has a wide range of options for plumbing and heating & air conditioning system financing.  Visit our financing page and use our monthly payment calculator to calculate the best option that fits your needs. Ask about our 90 days as good as cash or six months as good as cash 0% financing plans.
Spartan serves all the Northeast Washington, DC (NE) Zip Code Areas including but not limited to: 20017, 20018, 20019, 20011, 20001, 20002.
Additional DC Regions Serviced: