Your One Stop for Professional Plumbing & HVAC Services in Rockville, MD
Spartan provides a wide range of 24/7 plumbing and HVAC services in Rockville, Maryland which include:
24/7 Emergency Service
Residential Plumbing and Drain Cleaning
Commercial Plumbing, Grease Trap Service and Pumping
Commercial Drain Cleaning and Water Jetting
HVAC Service and Installation
Heating System Repair / Replacement
A/C Repair and Replacement
Leak / Drip Pipe Repairs
Drain Cleaning / Clogged Drain Snaking / Unclogging
Heating and Air Conditioning Maintenance Service Contracts
Water Heater / Boiler Repair and Replacement
Backflow Prevention Testing
Sump Pump and Garbage Disposal Repair and Installation
Energy Audits
To Schedule Service fill out our Schedule Service Request form. For immediate service contact us at: 1-800-882-0194. Below is additional information on some of the services Spartan provides in the area.
Rockville, MD  Plumbers
Anyone who lives in Rockville, Maryland can benefit from knowing an exceptional plumber who has been serving Rockville Maryland for almost 47 years. Spartan Plumbing is a woman owned and managed plumbing company with a Better Business Bureau A+ rating. It is important to use a reputable plumbing company that is licensed, bonded and insured. You need a Rockville, Maryland plumbing contractor offering the full range of plumbing services, from a broken underground pipe in your yard to tree roots in your main sewer line. Spartan can get your home's plumbing problems fixed in a timely manner. Spartan can handle any plumbing situation including new installation or repair of sump pumps, hot water heaters, boilers, re-piping jobs and kitchen and bathroom faucets and sinks, basins, tubs and garbage disposals.
Plumbing is an integral part of any home or business and one of the most troublesome when it malfunctions. Leaks, drips, low pressure, and clogged drains are just a few of the more common types of problems that occur as pipes and components become old and obsolete. All of these issues need to be addressed by a licensed plumbing provider to ensure that the system as a whole functions as it should. Many potential plumbing problems in the Rockville, Maryland area can be prevented or minimized with a little preventive maintenance. Rockville residents know to call Spartan Plumbing, Heating and Air Conditioning when they have a residential plumbing problem because Spartan has been serving homes in Maryland and Washington, DC for over 47 years while maintaining a Better Business Bureau A+ rating!
> Schedule Plumbing Service or Inquire About a FREE Estimate Today!
Leaking, Cracked or Broken Pipes in Rockville, MD
Aside from lack of preventive maintenance, overlooking or dismissing minor problems is the largest contributor to major plumbing repairs. This is particularly true in the northeastern regions like Rockville, Maryland where cold winters are the norm. Low water pressure can be an indicator of a leak, clog, or even a broken pipe somewhere in the system. Freezing and thawing cycles over the winter can lead to cracks in underground water or sewer pipes. Sometimes your connection to city water service can be interrupted when an underground pipe needs to be replaced. When the same sewer line or floor drain is clogged over and over again, tree roots in your pipes could be the culprits. If snaking the drain doesn't work, often a video pipe inspection is needed so the camera can detect the source of your problem.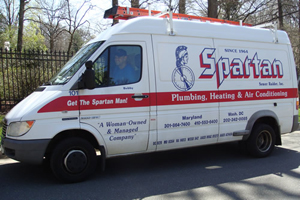 Licensed, Bonded and Insured Maryland Plumbers
Consulting with a Rockville, Maryland plumber the moment you notice a problem can greatly reduce the impact it could have later on. Leaks and drips can be indicators of worn parts, defective parts, or even improper maintenance. Leaving a leak or drip flowing in the winter months can lead to pipes bursting, water lines freezing, mold and mildew, and very real water damage. Having a Rockville, Maryland plumbing specialist inspect your entire system each year can help identify problems before they become major and can save you thousands in emergency repair bills. But when an emergency, such as an overflowing toilet or backing up sink drain, does arise, Spartan has 24 hour emergency service.
Ask For Free Estimates on Plumbing work in your Rockville, Maryland Home
Whether you need an energy saving, on demand tankless water heater or a re-piping job, Spartan offers free estimates, just ask!. Boiler replacements, new bathroom fixtures such as toilets, sinks, bathtubs and showers, these are major investments. The plumbing should only be installed or replaced by a licensed Rockville, Maryland plumbing provider to ensure it is installed correctly the first time. Spartan has provided plumbing services for over 47 years in the Rockville area. Contact us today for more information on how we can assist you!
Click Here to ask for a Free Estimate!