Spartan Plumbing, Heating and Air Conditioning provides 24 Hour Emergency Plumbing, Drain Cleaning and HVAC (Heating and Air Conditioning) Services throughout Greenbelt MD, including but not limited to the following zip code areas: 20768, 20770, and 20771. Schedule Service or Ask Us About a Free Estimate!
Spartan does not charge extra for evening and weekend services
Services that Spartan provides to Greenbelt residences and businesses include:
Residential Plumbing and Drain Cleaning
Residential Heating and Air Conditioning Repair, Service and Installation
Commercial Plumbing and Grease Removal Services
Water and Sewer Pipe Leaks, Repair and Replacements
Toilet Repair and Replacement
Faucet Repair and Replacement
Garbage Disposal Repair and Replacement
Video Camera Pipe Inspection
Gas and Electric Water Heater Repair and Installation
Boiler and Furnace Repair and
Sump Pump Repair and Replacement
Energy Audits, Energy Home Improvements and Insulation
Free Estimates
Financing
To Schedule Service fill out our Schedule Service Request form.
Heating and Air Conditioning Repair, Service and Installation in Greenbelt, Maryland
Central Air Conditioning Repair Service and Installation
A/C Tune-Ups
Heating System Maintenance Check Ups
Furnace and Heat Pump Repair Service and Installation
Gas and Steam  Boiler Repair and Service
Heating and Air Conditioning Maintenance Service Contracts
Oil to Gas Conversions
Electric to Gas Conversion
Air Cleaners, Humidifiers and UV Air Purification Systems
Commercial Plumbing and Grease Trap Services in Greenbelt, MD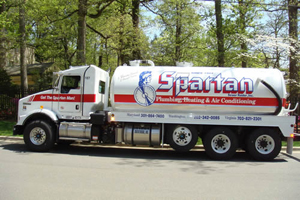 When you have clogged drains, grease trap issues or commercial plumbing problems in your Greenbelt, Maryland restaurant, commercial or institutional kitchen, Spartan Plumbing has been serving Maryland and the Washington DC restaurants for 47 years. For F.O.G. violation corrections, Spartan Plumbing is the grease removal expert. We can take care of all your commercial grease pumping, drain snaking, grease interceptors, grease traps, grease recovery devices, tank locator service and water jetting needs. Spartan plumbers will keep your restaurant open and correct all your Fats, Oils and Grease (F.O.G.) Violations. Spartan has 24 hour emergency service and we are experts at clearing, snaking and water jetting clogged and backed up restaurant drains. When you need to clean drains clogged with restaurant grease, Spartan has water or hydro jetting to clear your drains stopped up with the fats, oils and grease from your restaurant. Spartan can take care of all your Greenbelt, MD grease pumping needs, from monthly grease removal to weekly grease pumping contracts, we are here to help and we will work around your schedule. For backflow preventers, backflow prevention testing in Greenbelt, and for all your Greenbelt Maryland commercial plumbing needs, Call Spartan Plumbing today and Schedule service!
Plumbers and Pipe Leaks in Greenbelt, Maryland (MD)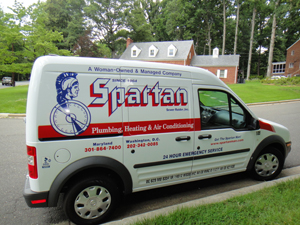 Greenbelt Maryland homeowners know that establishing a relationship with a licensed, bonded and insured plumber in your community is very important. You want a plumber who stands behind his work, who will be there when you need him and who realizes that your time is valuable. Spartan Plumbing has been serving Greenbelt, MD since 1964. With Spartan Plumbing, you can conveniently schedule service on line when you have a leak and know that they can handle all of your plumbing problems, usually the same day. Leaks in the wall or ceiling, leaks under ground or that annoying dripping faucet, can all cause damage to your home and should be taken care of immediately. It is amazing how much a tiny little drip can cost you on your water bill, those drips add up to gallons of water lost. Sometimes drains clog repeatedly due to tree roots or the constant thaw and freeze of a Maryland winter can cause cracked or collapsed pipes underground. You may need a video camera pipe inspection to determine the cause of your chronic clogged drains. If snaking your drains doesn't help call Spartan to schedule your video camera pipe inspection or leak detection plumbing service. Spartan can take care of everything from updating your bathroom with high efficiency water saving toilets to boiler repair. Spartan has 24 hour emergency service to take care of all your Greenbelt, Maryland emergency drain cleaning and plumbing service needs.
Locations Near Greenbelt, Maryland