Spartan provides 24 /7 emergency and regular services for residence in the Hyattsville, Maryland region. We provide a wide range of HVAC and plumbing services, which includes but is not limited to:
24/7 Emergency Services
Commercial Plumbing
Residential Plumbing
HVAC Installation
Heating System Repair / Replacement
A/C Repair and Replacement
Pipe Repairs
Drain Cleaning / Unclogging
Maintenance Services
Water Heater / Boiler Repair and Replacement
Energy Audits
To Schedule Service fill out our Schedule Service Request form. For immediate service contact us at: 1-800-882-0194.
Hyattsville, Maryland homeowners are proactive when it comes to plumbing. For example, lets say you notice a small dripping leak under your bathroom sink. Those drips can add up fast, costing you money in home repair for things like water damage done to cabinets and floors. A leak like this can also raise your utility bills and wastewater. Proactive homeowners like those in Hyattsville, MD know that replacing washers or toilet tank parts can stop leaks and save money. It is crucial to address problems like pipe leaks early before they get out of hand and are more expensive to repair. You can also lower your water bill by switching to more water efficient faucets, toilets and showerheads.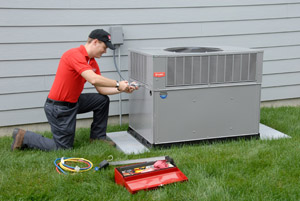 Spartan Plumbing, Heating and Air Conditioning provides licensed Plumbing services at affordable rates. Spartan is a woman owned and managed plumbing company that has been serving Hyattsville, MD since 1964—almost 47 years! The Spartan Plumbing staff is cheerful and competent and the plumbers are experienced, knowledgeable and friendly. They can handle the small, simple problems like a leak under the kitchen sink or a running toilet, but they are also prepared to tackle sewer pipe replacements, boiler installations or a major bathroom upgrade with new plumbing fixtures such as toilets, bathtubs, walk in showers and sinks. Spartan Plumbers are prepared to handle any plumbing issue that our Hyattsville neighbors might have. Plus Spartan Plumbers are the Leak Detection Experts!
> Schedule Plumbing Service or Ask For a FREE Estimate Today!
Drain Cleaning and Clogged Drains in Hyattsville MD
Hyattsville locals know that you can spot Spartan Plumbing's red, white and blue trucks on Maryland roadways any hour of the day, on any day of the year. Spartan has 24 hour/7 days a week emergency plumbing and drain cleaning service. And Spartan doesn't charge extra, their price never changes. So when Hyattsville Maryland Residents have a backing up floor drain or their tub is clogged, they know to Get The Spartan Man! Maybe your toddler dropped his or her favorite toy down the toilet; maybe you woke up to a dishwasher backing up and water all over the kitchen floor. Who wants to wait until 9 AM to call their local plumbing company for help? No one! And everyone in Hyattsville, MD knows that no matter the day or hour they can call and get the help they need from Spartan Plumbing, Heating and Air Conditioning. They have the right equipment to efficiently and effectively remove or clear any blockage and to unstop any drain. And if you are a Hyattsville, Maryland homeowner that keeps spending money snaking the same drain, over and over again– ask Spartan about video pipe inspections. Spartan can give you a video camera pipe inspection to look inside your pipes and tell you where the source of your drain problem is– so you can solve it fast!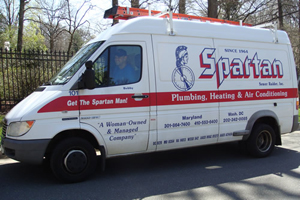 A Plumbing Contractor with Free Estimates in Hyattsville, MD
Anyone in Hyattsville, MD can call in and ask for a free plumbing estimate. Want to convert your oil boiler to a gas boiler or replace your aging boiler with a new energy star rated boiler? Or If you're looking to replace the old, worn out PVC or galvanized pipes with copper pipes that are less susceptible to leaks and cracks and save you money on repairs, Spartan can give you an idea of what your options are and tell you what it will cost.Maybe you'd like to know how much it would cost to relocate your washer and dryer upstairs to so that you have fewer trips down to the basement. You don't have to pay for a plumbing consultation; Spartan can give you a free plumbing estimate! For instance, forward-thinking Hyattsville residents know that they can save money, energy, and water by upgrading their hot water heater to a new on demand tank less water heater. Spartan Plumbing can give you an estimate to show you what your options are.