Waldorf Plumbers & HVAC Service Providers Near You
including but not limited to, zip code areas 20601, 20602 and 20603
Spartan Plumbing, Heating and Air Conditioning is a woman-owned and managed company that provides the following services:
– Residential Plumbing
– Drain Cleaning
– Commercial Plumbing
– Heating and Air Conditioning (HVAC)
Residential Plumbers in Waldorf, Maryland (MD)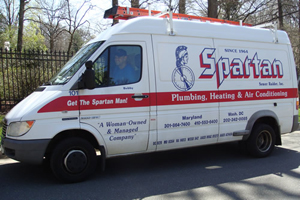 Spartan Plumbing, Heating and Air Conditioning is a highly respected company that has been providing residential plumbing services to Washington, DC and Maryland homes, including Waldorf, Maryland (MD), for almost half a century. With a Better Business Bureau A+ rating that underscores our commitment to excellent customer service, this woman-owned company provides 24-hour Emergency Service to Waldorf, Maryland residences . Spartan Plumbing does not charge extra for Evening or Weekend Residential Plumbing and Drain Cleaning Service. We can repair or replace your drippy faucets, leaking sinks, and backed-up toilets, tubs and showers. We can also handle larger jobs like fixing and replacing leaking pipes, boilers, garbage disposals, cracked or broken pipes, sump pumps and sewage ejectors. Are tree roots clogging your underground pipes, which are leading to back ups in your floor drains? Do you have a gas or electric hot water heater that is leaking? Schedule Service Now!
Plumbing Leaks and Leak Detection in Your Waldorf, Maryland Home
When you run across plumbing leaks in your home, the first thing you should do is reach out to a licensed, bonded and insured plumbing specialist. A trusted one like Spartan Plumbing, Heating and Air Conditioning can help you quickly repair dripping faucets and leaking pipes before they can do further damage – like cause mold and mildew. Having leaks fixed promptly will also stop gallons of water from being wasted.
Spartan Plumbing is Waldorf, Maryland's Leak Detection Expert! We will arrive promptly when called and also clean up thoroughly after every job. This is just one of the ways we show our customers how much we respect them and their home, and it's one of the leading reasons we've been repairing leaks in Waldorf, Maryland homes for almost 50 years. So, whether the problem is a leaking pipe in a wall, a pinhole leak in an exposed pipe in your basement, or a leak in an underground pipe somewhere in your yard, you can depend on Spartan Plumbing to fix it. Even if the leak is from a cracked or broken pipe underground and excavation is required; or you need a broken sewer pipe in your yard replaced due to tree root damage; or if for whatever reason you need to be reconnected to your city's water service, call us. We handle all of these plumbing problems. And, just in case you didn't know, Spartan also does Video Camera Pipe Inspections, so we can accurately assess what the real problem is inside your drain pipes.
Spartan's Residential Plumbing Services to Waldorf, Maryland Include:
Reliable 24-Hour Emergency Service
Free Estimates Given
HVAC, Energy and Plumbing Financing Available
No Extra Charge for Weekend or Evening Service
Repair, Replace and Install Toilets
Repair Dripping and Leaking Bathroom and Kitchen Faucets
Detect and Fix Drips, Leaks, Pin Hole Leaks, Leaking Pipes
Complete Heating and Air Conditioning Service (HVAC)
Repair, Replace and Install Water Heaters
Detect Gas Leaks and Run New Gas Lines
Steam and Gas Boiler Repair or Replacement
Sump Pump Repair, Replacement and New Installation
Battery Back Ups for Sump Pumps
Energy-Saving Tankless On-Demand Water Heaters
Tub and Shower Repair and Replacement
Sinks, Basin, Laundry Tub Repair and Replacement
Sewage Ejector Pumps
Leak Detection, Leaks and Leaking Pipe
Drain Cleaning for Clogged Drains Blocked Pipes and Backing Up Toilets
Sewer Snakes and Snaking Drains
Clogged Floor Drains, Tub, Sink & Outside Drains
Root Clearing from Drain Pipes
Jammed or Broken Garbage Disposal Repair and Replacement
Cracked and Broken Sewer Pipe Repair and Replacement
Main Water Pipe Repair & Water Service Reconnection
Gas and Electric Water Heater Repair and Replacement
Video Camera Pipe Inspection
Commercial Plumbing in Waldorf, Maryland (MD)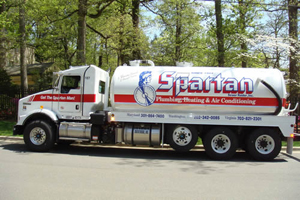 Do you work as a Commercial or Institutional Kitchen Manager in Waldorf, MD and handle Fats, Oils and Grease (F.O.G.) violations? Do you own, operate and/or manage a business like a restaurant or church? If so, Spartan Plumbing can help you with all of your commercial plumbing needs, including grease removal and commercial drain cleaning. For example, if you're tired of snaking the same drain line over and over again, it's easy to find out what's really going on with it via Spartan's Video Camera Pipe Inspection Service! Spartan is also Waldorf, Maryland's Backflow Prevention Specialist, with backflow preventers and backflow prevention testing services. A Spartan Plumbing professional can provide the following commercial plumbing services to your Waldorf, Maryland (MD) commercial building or business:
Backflow Preventers and Backflow Prevention Testing
Tank Locator Service
Thorough Video Camera Pipe Inspection Service
Assistance Correcting F.O.G. Violations
Grease Traps, Interceptor & Grease Removal Pumping
Installation of all Kinds of Grease Abatement Systems and Grease Traps
Installation of Grease Recovery Devices and Grease Interceptor
Water or Hydro Jetting of Drain Lines
Commercial Drain Cleaning and Object Removal
Restroom or Commercial Plumbing Fixture Repair and Replacement
24-Hour Emergency Service for Plumbing and Drain Cleaning
Complete Servicing of Commercial Boilers and Water Heaters
Odor / Sewer Gas Detection Services
Heating and Air Conditioning (HVAC) Repair and Installation Services in Waldorf, Maryland (MD)
, including but not limited to, zip code areas 20601, 20602 and 20603.
Do you make your home in Waldorf, Maryland and just recently discovered that you have no A/C and need to call in an A/C repair specialist? Spartan Plumbing, Heating and Air Conditioning provides complete heating and air conditioning (HVAC) repair services to Waldorf, Maryland residential homes. With a reputable company like Spartan Plumbing as part of your community, you never need to wonder where to find dependable central air conditioning repair experts, or endure the heat of Waldorf, Maryland summers. Spartan provides Annual Service Maintenance Contracts on Central Air Conditioning Systems to Waldorf, Maryland homes. We also do A/C check-ups and A/C tune-ups, which ensure that your central air conditioning system or heat pump is in optimal running order at all times, especially during the hot Waldorf, MD summer months.
Do you live in Waldorf, MD and suddenly find that you have no heat and need an expert in heat repair to service your system? Just like we keep you cool in the summer, Spartan Plumbing keeps Waldorf, Maryland homes warm during the freezing winter months. Your Waldorf, MD home never needs to be caught with no heat and in need of heat repair when it's cold outside! With our Annual Service Maintenance Contracts for Heating Systems in Waldorf, MD homes, you can alleviate this worry. Get your Annual Boiler or Furnace Service Maintenance Check Up to keep your Waldorf, MD home comfortable and warm on cold winter days.
Spartan Provides Heating and Air Conditioning (HVAC) Services to Waldorf, Maryland Residences, Including:
HVAC and Energy Financing Available
Conversions: Oil to Gas Conversions and Electric to Gas Conversions
Preventive HVAC Maintenance: A/C Tune-Ups and Check-Ups
Installation of Programmable Thermostats
No Heat, No A/C Repair and Replacement Services
Pilot Lights Examination/Troubleshooting
Central Air Conditioning Service, Repair, Replacement & Installation
Heat Pump Service, Repair, Replacement and Installation
Furnace Repair, Service, Repair and Installation
Boiler Service, Repair, Replacement and Installation
Radiator Repair and Replacement
Heating Service, Repair, Replacement and Installation
Air Cleaners, Humidifiers, UV Air Purification Systems
Tank Removal
Energy Saving Heating and Cooling Systems
BPI-Certified Heating Professionals and High-Efficiency Retrofits
Service Maintenance Contracts on Heating and Cooling Systems
Free Estimates
Drain Cleaning Services in Waldorf, Maryland (MD)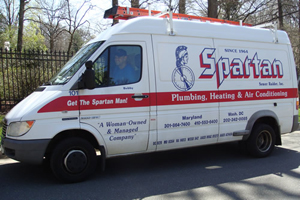 Spartan plumbers have been unclogging blocked sewers and drains in the Washington Metropolitan area, including Waldorf, Maryland (MD) for almost half a century! It's a reputation we're proud of, so if you're faced with an emergency like a stopped-up or overflowing toilet, or a drain that's backing up in your basement, call us. Remember, Spartan never charges extra for Evening and Weekend Drain Cleaning Service to Waldorf, MD residences. Even if your plumbing emergency happens in the middle of the night, our 24-hour emergency drain cleaning service to Waldorf, Maryland (MD) homes and businesses is available (including, but not limited to, zip code areas 20601, 20602 and 20603).
Spartan's Drain Cleaning Services Include:
24-Hour Emergency Service for Residential and Commercial Drain Cleaning
Complete Residential and Commercial Drain Cleaning
Sewage Back Ups and Main Sewer Line Drain Cleaning
Video Camera Pipe Inspections
Restroom Drain Cleaning and Object Removal
Roof Drain Cleaning and Snaking of Stopped Stack Drains
Underground Pipes/Sewers: Clearing Roots in Drain Lines
Grease Removal: Hydro or Water Jetting Fats Oils and Grease from Restaurant Drain Lines
Fixing Clogged Toilets and Toilet Drain Cleaning
Clogged Sink Drain Cleaning
Laundry Tub Drain Cleaning
Blocked Dishwasher Drain Cleaning
Jammed Garbage Disposal Drain Cleaning
Backing Up Toilets and Blocked Sewers Snaked
Stopped Sinks, Basin and Tub Drains
Clogged Shower Drain Cleaning
Blocked Outside Drain Cleaning
Floor Drain Cleaning and Floor Drain Back Ups
Snaking of Slow-Draining Bathtubs
Snaking Backed Up Drains, Unclogging Drains, Sewer Snakes