Spartan Plumbing, Heating and Air Conditioning provides 24 / 7 services in the Fort Washington, Maryland area. Services include: residential and commercial plumbing, HVAC repair and maintenance, grease pumping, drain cleaning and more. For additional information or immediate service complete our Schedule Service Form!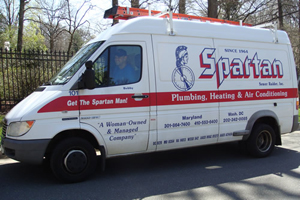 A Residential Plumber in Fort Washington, Maryland
Are you looking for a Terrific Plumber in Fort Washington Maryland? If you live in the Fort Washington, MD 20744 zip code area, you probably already know that Spartan Plumbing is the best choice for a local Plumber in Ft Washington, MD. For over 47 years, Spartan Plumbing, Heating and Air Conditioning has been providing Residential Plumbing services to Fort Washington, MD homes. Spartan is a woman owned Plumbing contractor that can handle all of your residential plumbing problems.
Full Service Plumbing, Drain Cleaning and HVAC
Spartan can do it all from underground pipes, leaking pipes, leak detection in the wall or ceiling to new gas piping. They are a full service, woman owned Plumbing Contractor with a Better Business Bureau A+ rating. If you have a drain stoppage in the middle of the night and you are in need of drain cleaning services, call Spartan They have 24 hour emergency service and they don't charge extra for weekend or evening service! Spartan can repair or replace your faucets, sinks, toilets, tubs and showers. Spartan Plumbers can repair or replace cracked or broken pipes, leaking pipes, boilers, sump pumps sewage ejectors and garbage disposals. Are there roots in your underground pipes causing your floor drains to back up? Do you have a leaking gas or electric hot water heater? Call Spartan Now or Click here to Schedule On-Line.
> Schedule Service or Inquire About a FREE Estimate Today!
Full Service Residential Heating & Air Conditioning (HVAC)
Spartan also offers Heating and Air Conditioning Service, Repair, Installation and Maintenance Service Contracts. They can repair your Central Air Conditioning System, Heat pump, Furnace or Gas or Steam Boiler. They also offer residential service contracts for Heating and Air Conditioning system maintenance to help you save money by lowering your utility bills.
Commercial Plumbing Services
If you are a restaurant, church or commercial kitchen manager in Fort Washington, MD dealing with Fats, Oils and Grease (F.O.G.) violations, Spartan can help you with all of your grease removal, commercial drain cleaning and commercial plumbing needs. A Spartan Plumber can take care of the following commercial services for your restaurant, church, business or institutional kitchen:
24 Hour Emergency Service for Plumbing and Drain Cleaning
Water or Hydro Jetting of Drain or Sewer Lines
Grease Traps, Interceptor & Grease Removal Pumping
Installation of all types of Grease Abatement Systems and Grease Traps
F.O.G. Violation Corrections
Restroom or Commercial Plumbing Fixtures Repair and Replacement
Tank Locator Service
Odor/Sewer Gas Detection Services
Commercial Hot Water Heaters and Boilers
> Schedule Service or Ask About a FREE Estimate Today!
Spartan Offers a full range of: Plumbing, Heating and Air Conditioning (HVAC) Financing for Fort Washington, MD 20744. Click here to visit our financing page.