Looking for a Plumber or HVAC Service in Chillum, Maryland?
including but not limited to, zip code area 20782.
Spartan Plumbing, Heating and Air Conditioning is a woman-owned company that provides the following services to Chillum residents:
– Residential Plumbing
– Commercial Plumbing
– Heating and Air Conditioning (HVAC) Services
– Drain Cleaning Services
Residential Plumbers in Chillum, Maryland
With an A+ Better Business Bureau rating, Spartan Plumbing, Heating and Air Conditioning is proud to be a women-owned and operated business. We have been taking care of the residential plumbing needs of Washington, DC and Maryland residents, including Chillum, Maryland (MD), for almost 50 years. No job is too large or small for Spartan Plumbing. We can fix and replace faucets, sinks, toilets, tubs and showers. And, we can repair and/or install broken or cracked pipes, leaking pipes, boilers, sewage ejectors, garbage disposals and sump pumps. We are a leading area plumbing company that provides 24-hour Emergency Service to Chillum, Maryland residences. And, at Spartan Plumbing there is no extra charge for Evening or Weekend Residential Plumbing and Drain Cleaning Service. Roots strangling your underground pipes, which is making your floor drains back up? Have a leaking gas or electric hot water heater? Schedule Service Now!
Plumbing Leaks and Leak Detection in Your Chillum, Maryland Home
Faucets and pikes that drip and leak can lead to expensive home repairs (eg, mold and mildew growth and removal) and waste gallons of water. Plumbing leaks like this signify problems, so when you have one, the first thing you should do is call a trusted, licensed, bonded and insured plumbing company – one like Spartan Plumbing, Heating and Air Conditioning.
Whether the problem is as small as a pinhole leak in an exposed pipe in your basement, a leaking pipe in a wall, or a leak in an underground pipe somewhere in your yard — Spartan plumbers can locate it and repair it. Even when the leak is caused by a compromised pipe underground that's been damaged by tree roots and excavation is necessary, we can get the job done. We can also assist you with getting reconnected to your city's water supply. Whatever the plumbing problem, Spartan professionals will come to your Chillum, MD home, locate and repair the leak, and leave the area sparkling clean.
At Spartan Plumbing, we are profound believers in always treating our customers, their homes and their family with respect. It's one of the premier reasons we've been repairing leaks in Chillum, Maryland homes for almost five decades. Spartan Plumbing is Chillum, Maryland's Leak Detection Expert! Spartan also offers industry-leading Video Camera Pipe Inspections to see what's going on inside your home's pipes.
Residential Plumbing Services to Chillum, Maryland Residents Include:
24-Hour Emergency Service Calls
Never an Extra Charge for Evening or Weekend Service
Free Estimates Given
HVAC, Plumbing and Energy Financing Available
Tub, Shower, Sink, Faucet Repair and Replacement
Fixing / Repairing Annoying Dripping and Leaking Kitchen and Bathroom Faucets
Unclogging Jammed or Broken Garbage Disposal Repair and Replacement
Repair and Replacement of Gas and Electric Water Heaters
Battery Back Ups for Sump Pumps
Water Heater Repair and Replacement
Gas and Steam Boiler Repair and Replacement
Sump Pump Repair, Replacement and New Installation
Running New Gas Lines; Locating/Fixing Gas Leaks
Repairing and Replacing Cracked and Broken Sewer Pipes
Main Water Pipe Repair & Water Service Reconnection
Energy-Saving Tankless On Demand Water Heaters
Sinks, Basin, Laundry Tub Repair and Replacement
Sewage Ejector Pumps
Toilet Repair and Replacement
Clearing Tree Roots from Drain Pipes
Leak Detection, Leaks and Leaking Pipe
Drips, Leaks, Pin Hole Leaks, Leaking Pipes
Drain Cleaning for Clogged Drains Blocked Pipes and Backing Up Toilets
Sewer Snakes and Snaking Drains
Clogged Floor Drains, Tub, Sink & Outside Drains
Video Camera Pipe Inspection
Total Heating and Air Conditioning Service (HVAC)
Commercial Plumbing in Chillum, Maryland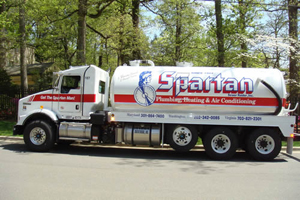 If you are an area church, restaurant or other commercial business, or you're a Commercial or Institutional Kitchen Manager in Chillum, MD who's in charge of dealing with Fats, Oils and Grease (F.O.G.) violations, Spartan Plumbing professionals can assist you with your grease removal, commercial plumbing and commercial drain needs. If you find that you're constantly snaking the same drain line over and over again, discover what's really going on via Spartan's Video Camera Pipe Inspection Service! Spartan Plumbing is also Chillum, Maryland's Backflow Prevention Specialist, offering backflow preventers and backflow prevention testing services. A Spartan plumbing expert can handle all of the following commercial plumbing services for your Chillum, Maryland (MD) commercial building or business:
F.O.G. Violation Rectifications
Installation Grease Abatement Systems and Grease Traps
Provision of Grease Recovery Devices and Grease Interceptor Installation
Servicing of Commercial Water Heaters and Boilers
Odor and Sewer Gas Detection Services
Tank Locating Services
Clearing Drain Lines via Water or Hydro Jetting
Bathroom and/or Commercial Plumbing Fixture Repair and Replacement
Backflow Preventers and Backflow Prevention Testing
Grease Traps, Interceptor & Grease Removal Pumping
Commercial Drain Cleaning and Object Removal
24 Hour Emergency Service for Plumbing and Drain Cleaning
Video Camera Pipe Inspection
HVAC Repair & Installation Services in Chillum, Maryland
With Spartan Plumbing as part of your community, there's never a need to swelter during humid Chillum, Maryland summers. If you reside in Chillum, MD and suddenly find yourself with no A/C and are in need of an A/C repair professional, look no further than Spartan Plumbing. Also, if you find yourself with no heat and in need of a heat repair specialist, call us. Spartan Plumbing, Heating and Air Conditioning provides complete Heating and Air Conditioning (HVAC) Repair Services to Chillum, Maryland residential homes. We also offer Annual Service Maintenance Contracts on Central Air Conditioning Systems to Chillum, Maryland residences, which helps to prevent HVAC problems before they occur. To make sure that your Central Air Conditioning System or Heat Pump is running great in sizzling Chillum, MD summers, Spartan does A/C check-ups and A/C tune-ups.
Spartan helps to ensure that your Chillum, Maryland home is comfortable for the entire family during winter. There's no need for your Chillum, MD home to be caught with no heat and in need of heat repair during the winter. With Spartan's Annual Service Maintenance Contracts for Heating Systems for Chillum, MD homeowners, you can prevent problems before they happen. Call to get your Annual Boiler or Furnace Service Maintenance Check Up so your Chillum, MD home will always be comfortable, even on Ole Man Winter's most freezing day!
Spartan Provides Heating and Air Conditioning (HVAC) Services to Chillum, Maryland Residents, which Include:
Free Estimates
Maintenance Service Contracts on Heating and Cooling Systems
Electric to Gas Conversion
Programmable Thermostats
UV Air Purification Systems, Air Cleaners and Humidifiers
Tank Removal
Pilot Lights
Lack of Heat, Lack of A/C Repair and Replacement Services
Central Air Conditioning Service, Repair, Replacement & Installation
Heat Pump Service, Repair and Installation
Furnace Repair, Service, Repair and Installation
Servicing Boilers: Repair and Installation
Energy-Saving Heating and Cooling Systems
Radiator Repair and Replacement
Heating Service, Repair, Replacement and Installation
Oil to Gas Conversions
A/C Tune-Ups and Check-Ups
BPI Certified Heating Professionals and High Efficiency Retrofits
HVAC and Energy Financing Available
Drain Cleaning Services in Chillum, Maryland
Spartan Plumbing has been the company Washington Metropolitan area residents, including Chillum, Maryland (MD), have been calling on to unclog stopped-up sewers and drains for almost 50 years! If you have an overflowing toilet or a backed-up drain in your basement in the middle of the night, remember to call us. At Spartan, there is no extra charge for Evening and Weekend Drain Cleaning Service to Chillum, MD residences. Whether it's 3 p.m. or 3 a.m., Spartan offers 24-hour emergency drain cleaning services to Chillum, Maryland (MD) homes and businesses, including but not limited to, zip code area 20782.
Spartan Drain Cleaning Services Include:
All Types of Residential and Commercial Drain Cleaning Services
24-Hour Emergency Service for Residential and Commercial Drain Cleaning
Snaking Slow-Draining Bathtub Drains
Obstructed Dishwasher Drain Cleaning
Blocked Garbage Disposal Drain Cleaning
Clearing Backed-Up Toilets and Snaking Sewers
Clearing Roots from Underground Drain Lines
Hydro or Water Jetting Fats Oils and Grease from Restaurant Drain Lines
Clogged Toilets and Toilet Drain Cleaning
Sewage Back Ups and Main Sewer Line Drain Cleaning
Stopped-Up Sink Drain Cleaning
Laundry Tub Drain Cleaning
Stopped Sinks, Basin and Tub Drains
Clogged Shower Drain Cleaning
Blocked Outside Drain Cleaning
Clearing Floor Drain Back Ups and Floor Drain Cleaning
Cleaning Roof Drains and Stopped Stack Drain Snaked
Snaking Backed Up Drains, Sewer Snakes, Unclogging Drains
Restroom Drain Cleaning and Object Removal
Problem-Solving Video Camera Pipe Inspections