Spartan provides 24/7 Services for residence in the Landover, Maryland area. We assist customers with plumbing needs as well as HVAC repair and services. The following is a list of our typical service requests:
24/7 Emergency Services
Residential Plumbing
Commercial Plumbing
HVAC Installation
Heating System Repair / Replacement
A/C Repair and Replacement
Leak / Drip Pipe Repairs
Drain Cleaning / Unclogging
HVAC Maintenance Services
Water Heater / Boiler Repair and Replacement
Energy Audits
To Schedule Service fill out our Schedule Service Request form.
Every year many Landover, Maryland homeowners find themselves searching for a plumber to fix a broken pipe, unstop a floor drain or clear a sewer stoppage in the middle of the night. Spartan has 24 hour emergency plumbing service. When it rains hard and you are looking for someone to replace your broken sump pump, think of Spartan, we've been serving the Landover Maryland area since 1964.
For almost half a century, people seeking service for the repair of a leaky faucet or looking to get a clogged drain snaked have been reporting great results after hiring Spartan Plumbing for their Landover, Maryland plumbing service. If you're from Landover Maryland, this company probably installed the bathroom or kitchen plumbing fixtures and faucets in your grandmother's house. Spartan professional plumbing contractors can handle everything from a broken sewer or water service to sump pump replacement or hot water heater installation. The servicemen are some of the best plumbers in Landover, Maryland and certainly the nicest. Spartan Plumbing is a woman owned and managed company and longtime Landover residents know from experience that the owner wants all of her customers to be happy with their plumbing service. Spartan plumbers strive to make our customers happy whether they are dealing with a simple kitchen sink stoppage or doing an extensive re-piping the entire house. That's why Spartan plumbing has a Better Business Bureau A+ rating.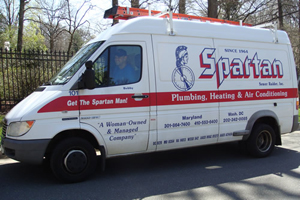 Simple plumbing problems such as leaky faucets and pipes can be very costly and time consuming to the homeowner. These problems have the potential to cause more expensive household repair issues over time because of water damage. Landover, Maryland homeowners have also reported high water bills from leaks and drips and old toilets; sink faucets and showerheads that use too much water. A reputable Landover, Maryland plumber is able to repair these plumbing issues and install up to date, water saving toilets and faucets that can help you conserve water and lower your monthly utility bill. Spartan can also install bathroom safety and comfort measures for your shower or tub such as grab bars, curved shower bars and hand held shower faucets. We also suggest higher toilets to save you wear and tear on your knees or ADA compliant toilets for anyone in your family who may be physically challenged or dealing with mobility issues.
> Schedule Plumbing Service or Ask For a FREE Estimate Today!
Additional Service Locations near Landover (Landover Hills)